Using Paysafecard at Canadian Online Casinos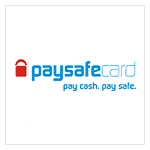 Online casino payment methods have been evolving over the last decade and the amount of choices available for customers is staggering. A new addition to this list is Paysafecard, making online payments easier than ever before. You're probably familiar with some of the more known payment methods such as; Visa, Mastercard and PayPal. But, Paysafecard will soon become one of the most popular payment methods in Canada.
In today's market, Paysafecard is the worldwide market leader in prepaid online payment methods. A big reason for this is that the payment method is completely unique in comparison with its competitors. The big appeal for customers is that the Paysafecard doesn't require any bank or credit card details when carrying out a transaction. You don't have to worry about your personal information circling the virtual world, which is an extremely comforting thought whilst gambling online. If Paysafecard is a payment method that you want to use, we've provided additional information regarding this option.